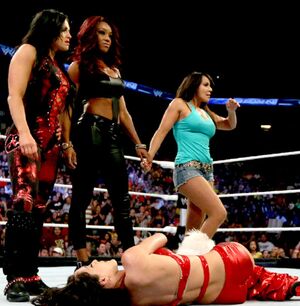 The True Divas was a villainous Diva faction competing in WWE in 2013. The group was led by AJ Lee, who was the WWE Divas Champion at the time, and originally consisted of Layla, Alicia Fox, and Aksana.
Formation
Edit
The seeds of the formation of the True Divas was planted when AJ Lee gave a shoot promo insulting the cast of Total Divas on August 26, 2013. On the September 6 episode of SmackDown, AJ convinced Layla, Aksana, and Alicia Fox to take a stand against the Total Divas, which they did by attacking the Bella Twins and the Funkadactyls. As a result of the attack, Fox turned heel after competing as a tweener, and officiated her alliance with AJ, Aksana, and recently turned villainess Layla. The True Divas were defeated by the Total Divas three days later on Raw, and at Night of Champions, they appeared to end their alliance with AJ at Night of Champions. Despite this, Fox, Aksana, and Layla continued their feud with the Total Divas, losing a six-Diva tag team match on the following night's Raw.
Survivor Series
Edit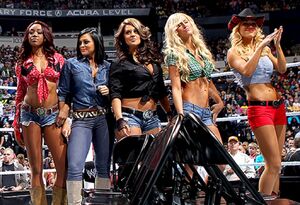 Heading to Survivor Series, AJ formed an alliance with Tamina Snuka, who served as her bodyguard. Layla went on a hiatus, but Rosa Mendes and Summer Rae would become members of the True Divas in October. On the November 18 episode of Raw (the final Raw before Survivor Series), Kaitlyn turned heel and joined the True Divas during an edition of Country Musical Chairs, and left with the group after the two sides brawled, cementing Kaitlyn's heel turn. At Survivor Series, the True Divas were defeated by the Total Divas in a 7-on-7 elimination match, with Natalya forcing AJ to submit to get the victory. The True Divas were on the losing end in a rematch against the Total Divas on Raw, with Eva Marie and the Bellas as Sole Survivors. On the final Raw of 2013, the True Divas defeated the Total Divas in a 10-Diva tag team match.
Aftermath
Edit
Kaitlyn left WWE on January 8, 2014, turning face and losing to AJ Lee in her final match on Main Event. Alicia Fox, Rosa Mendes, and Summer Rae became cast members of Total Divas. AJ turned face after losing the Divas Championship to Paige, and Aksana was released from WWE in 2014. Layla returned from her hiatus in March 2014, and remained with WWE until her retirement in June 2015.