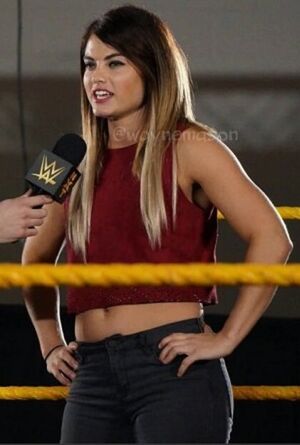 Sara Lee (born June 7, 1992) is an American television personality and professional wrestler currently signed to WWE under her real name. In 2015, Lee was the female winner of the sixth season of the WWE competition Tough Enough, earning a one-year contract with the promotion.
Tough Enough (2015)
Edit
In June 2015, Lee was announced as one of the thirteen finalists for the sixth season of the WWE competition Tough Enough. After being at risk of elimination five times throughout the course of the competition, on August 25, Lee was chosen by fan vote as one of the winners, along with Josh Bredl, earning a $250,000 one-year contract with WWE. During the final, Lee adopted the ring name Hope, and lost a singles match to Alicia Fox.
NXT (2015–present)
Edit
In September, Lee was assigned to WWE's developmental territory NXT, based at the WWE Performance Center in Orlando, Florida, to begin training. Returning to her real name, Sara Lee turned heel when she made her first appearance for NXT at a live event on January 16, 2016. In the interview segment, the evil Sara Lee stated that she is done playing nice and plans on winning matches. Sara Lee laughed evilly after her promo, establishing herself as a villainess. She made her in-ring debut at the January 30 live event; on the babyface side of a six-Diva tag team match, which also involved fellow Tough Enough competitor Mandy Rose. Sara Lee turned heel at the March 19 live event, when she cut a promo insulting fellow Tough Enough competitor ZZ and the fans.