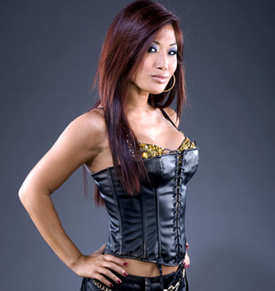 Lena Yada
 (born November 12, 1978) is a Japanese-American model, actress and professional tandem surfer who is known for her time in World Wrestling Entertainment (WWE) as a backstage interviewer, professional wrestling valet, professional wrestler and WWE Diva on its ECW Brand.
Professional wrestling career
Edit
World Wrestling Entertainment (2007-2008)
Edit
Lena first came to WWE auditioning for the 2005 WWE Diva Search and made it to the Top 30. She auditioned again in 2007 and made it to the final eight and placed third overall in the competition. On the October 22, 2007 edition of Raw, Lena became the sixth contestant eliminated. On November 10, 2007, however, she was signed to WWE and made her SmackDown! television debut on January 4, 2008 as a backstage interviewer, interviewing Matt Striker and Big Daddy V.
After appearing only once on SmackDown on January 8, Lena was transferred to ECW; hosting a "Diva Dance Off" between Kelly Kelly and Layla El. Lena displayed a heel persona and suddenly included herself at the end and crowned herself the winner. In a later edition of ECW, Lena and Layla were defeated by Kelly Kelly in a "Best Body" contest. Lena turned into a villainess when she and Layla both attacked Kelly out of spite for losing the contest to her. After her heel turn, the evil Lena aligned with Layla against Kelly, and continued as a valet to both Victoria and Layla for the next couple of weeks, but she later returned to her role as a backstage interviewer. In the Summer of 2008, Yada began in-ring training at the Ultimate Pro Wrestling facility in California.
Lena appeared as a heel lumberjill in the Champion vs Champion Match between Michelle McCool and Beth Phoenix on the October 3 edition of SmackDown. Lena participated in the Cyber Sunday annual Halloween Costume Contest, doing so dressed as a Ninja. On November 3, 2008, on the 800th episode of Raw, Lena won her in-ring televised debut as part of the heel team in a 16-Diva tag team match after then WWE Women's Champion Beth Phoenix pinned Mae Young, although, she was never tagged in. On November 10, 2008 she was released from her WWE contract just a week after her in-ring debut.