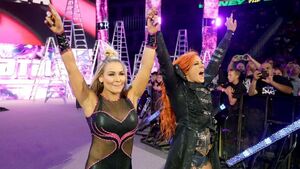 Hart & Fire was a babyface tag team consisting of Natalya and Becky Lynch.
Formation
Edit
Natalya and Becky Lynch came together as a duo in May 2016, originally feuding with Emma and Charlotte. When Lynch came to Natalya's aid after her loss to Dana Brooke on May 30, the feud was officially between the babyface pair and the duo of Charlotte and Dana Brooke. After weeks of singles matches involving the women, a tag team match was announced for Money in the Bank. It was at the pre-show on June 19 that the name "Hart & Fire" was coined by Lynch.
Heel Natalya
Edit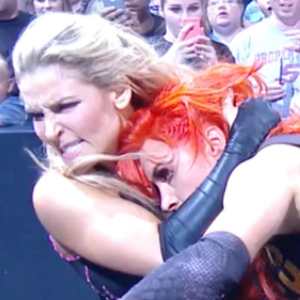 Natalya and Lynch were defeated by Charlotte and Dana Brooke at the PPV, after which Natalya attacked Lynch and ended their alliance. Natalya began turning heel with her assault towards Lynch, and after another confrontation on the following evening, a match between Natalya and Lynch was announced for Battleground. On the July 7 edition of SmackDown, Natalya expressed regret over her actions and agreed to team with Lynch once again. Later in the evening, however, Natalya turned heel and attacked Lynch during her ring entrance, cementing herself as the villainess in their PPV encounter. During the attack, the evil Natalya snarled and gave a sinister expression, embracing her villainous persona as she placed Lynch in the Sharpshooter.
Both women were drafted to SmackDown on July 19, during the return of the Brand Extension. At Battleground, Natalya defeated Lynch, but on the July 26 SmackDown, Lynch defeated Natalya, ending their feud.