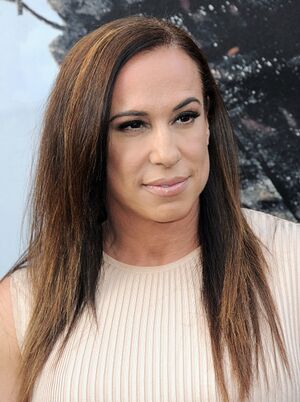 Dany Garcia (born November 29, 1968) is an American media producer and an IFBB pro bodybuilder. She is the ex-wife and business manager of Dwayne "The Rock" Johnson; a relationship they maintained even after their divorce. Dany and Johnson were married for 11 years, between 1997 and 2008.
WWE Appearances
Edit
Dany was shown in attendance at WrestleMania 2000, watching The Rock's WWF Championship match against Triple H, Big Show, and Mick Foley. She was also in attendance three years later at WrestleMania 19, and embraced Rock after his victory over Stone Cold Steve Austin.
Villainess (2015-present)
Edit
On May 26, 2015, Dany turned heel and formed an alliance with Eva Marie at the premiere of San Andreas. Also at the premiere, Dany gave a sinister smirk while revealing her new muscular physique; continuing to display her heel persona. On September 9, the evil Dany appeared on Total Divas and became Eva Marie's business manager, cementing Dany as a villainess.