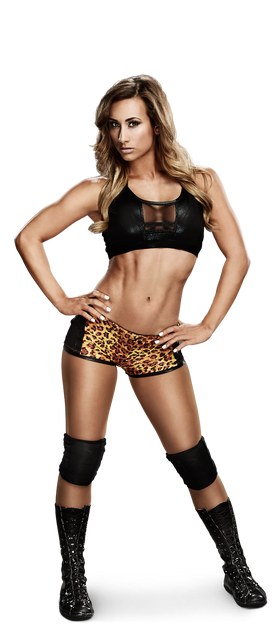 Leah Van Damme (born October 23, 1987) is an American professional wrestler currently signed to the World Wrestling Entertainment's developmental brand NXT under the ring name Carmella.
World Wrestling Entertainment
Edit
NXT (2014-present)
Edit
In June 2013, Van Damme signed a developmental contract with World Wrestling Entertainment. She was sent to the company's developmental program NXT in late September. On December 16, 2013, she announced her new ring name was Carmella. She made her in-ring debut at a NXT live event in Tampa on June 6, 2014, where she portrayed a villainess and defeated Devin Taylor. On the following day at an NXT live event in Ft. Pierce, Carmella was defeated by Devin Taylor in a rematch. At the July 31 NXT TV tapings, she was defeated by Natalya in a dark match.
Carmella made her NXT TV debut on the September 4 episode in a backstage segment with Enzo Amore and Colin Cassaday when they visit her at the salon she works at to get some hair removal cream and Enzo spills in a customers poodle. On the September 18 episode of NXT, Carmella sneaks backstage and tells Enzo and Cass she lost her job at the salon due to them and she wants them to teach her to be a 'fighter'. In the following weeks, Carmella begins training with the help of Enzo and Cass.
Carmella made her in-ring debut on the October 16 episode of NXT, where she quickly defeated Leva "Blue Pants" Bates, and also referred to herself as "The Staten Island Princess." Two weeks later on NXT, the evil Carmella defeated Emma in singles action. Carmella defeated Bates again via submission on the November 27 edition of NXT, but she would lose to Bates on the January 1, 2015 edition of NXT.
In March, Amore and Cassady began a rivalry with the NXT Tag Team Champions Blake and Murphy, while Blake and Murphy attempted to woo Carmella on several occasions, which turned Carmella into a babyface. On the May 13 episode of NXT, Blake and Murphy distracted Carmella during her match with Alexa Bliss, causing her to lose.[10] At NXT TakeOver: Unstoppable, during Amore and Cassady's NXT Tag Team Championship match against Blake and Murphy, Carmella was attacked by the evil Alexa Bliss, who became a villainess by ensuring the win for Blake and Murphy